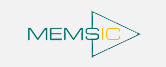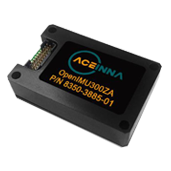 ACEINNA OPEN IMU300ZA – INERTIAL MEASUREMENT SYSTEM
The ACEINNA OpenIMU300ZA is an easy-to-use high-performance 9 DOF open inertial platform. The OpenIMU300 features a precision 3-Axis Accelerometer, low-drift 3-Axis Rate Gyro, and 3-Axis Magnetometer. The low-power platform is powered by a 168MHz ARM M4 CPU with a Floating Point Unit. The OpenIMU300 runs the OpenIMU open-source stack that includes an optimized full-state Kalman Filter for Attitude and GPS-Aided Position-Velocity-Time (PVT) measurement. A free tool-chain based on VS Code supports PC, MAC, Ubuntu.
Key Features:
Open Source Tool Chain
Custom Algorithms
168MHz ARM M4 CPU
Built in 16-State Open Source Extended State Kalman Filter
Low-Drift 3 axis MEMS angular rate sensor
High Performance 3 axis MEMS Accelerometer
3 axis magnetic sensor
SPI and UART interfaces
Up to 3 UARTs
Wide Temp Range, -40C to +85C
High Reliability
MTBF > 50k hours
Open Community & Support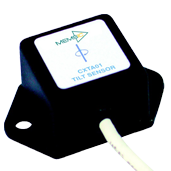 MEMSIC CXTA – Solid state, analog series
The CXTA single- and dual-axis analog tilt sensors offer resolution, accuracy and fast response in an inexpensive, easy-to-use package. The CXTA series design centers on a highly stable silicon micro-machined capacitive inclination sensor element. The CXTA series is fully signal conditioned with high level analog output(s), and optional analog temperature signal.
Key Features:  
Small, Low-Cost, Rugged

Rapid Response

± 75° Range

Fully Conditioned Analog Outputs

SPI (or UART) Interface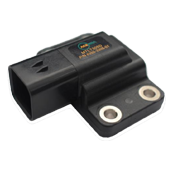 ACEINNA MTLT305D-R SERIES- Dynamic Tilt Sensor Modules
The ACEINNA MTLT305D Dynamic Tilt Sensor Module includes both CAN 2.0 (J1939) and RS232 Interfaces. It combines accelerometers, gyroscopes and a temperature sensor with advanced calibration and correction algorithms to provide accurate 3D acceleration, 3D rate and Pitch and Roll measurement in dynamic, moving vehicle applications.
The MTLT305D uses advanced sensor fusion (Extended Kalman Filtering) and calibration algorithms to achieve 0.5 degree tilt and <10 milli-g acceleration accuracy in a wide variety of dynamic conditions.  The MTLT30xD is available in an IP68 – 69K over molded enclosure with an IP67 rated AmpSeal 16 connector. It is calibrated to accurately operate over a wide temperature range of -40C to +85C. The compact module (65 x 66 x 27 mm) is perfect for rugged construction, off road and agriculture applications. It supports a wide 4.9V to 32V supply input range (qualified for use in both 12V and 24V vehicle platforms).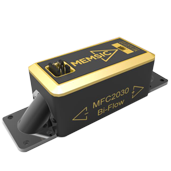 ACEINNA MFC2030 Series – High Performance Bi-Directional Digital MEMS Gas Flow Sensor
MFC2030 series is a new gas flow sensing module platform based on ACEINNA's proprietary CMOS technology for thermal mass flow sensing. It can measure up to 70 SLM bi-directional flow rate with +/-3.0% accuracy.
Key Features:
Bi-directional flow (±30 or ±70SLM)
High dynamic range
±3% m.v. accuracy
±0.8% m.v.repeatability
Low power consumption
Fast response time
Single 2.7 – 5.5Vdc power supply
Digital I2C and analog outputs
Standard push-in fitting sizes
Custom fluid connector available
Temperature compensated
Highly configurable firmware
Easy-to-use PC-based GUI
RoHS and WEEE compliant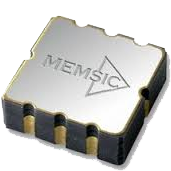 Unique thermal MEMS accelerometer components deliver outstanding 0g offset stability,2 & 3 axis, range up to 8g, Outputs: SPI, Analog, I2C, PWM,  vibration Immunity, and 50,000g shock tolerance.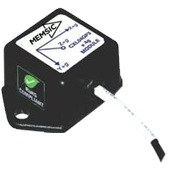 MEMSIC CXL-GP Series – General Purpose Accelerometer Modules
The GP Series accelerometers are low cost, general purpose, linear acceleration and/or vibration sensors available in ranges of ±4g, ±10g, and ±25g.
Key Features:
High Performance, 1-Axis and 3-Axis Accelerometers

Small, Low-Cost

Reliable Packaging with Screw-Down Mounting

Factory Calibrated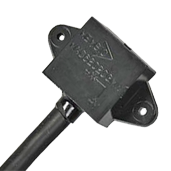 MEMSIC Out-Of-Balance – MXC62020GMW
The MXC62020GMW is a sensor module product which is targeted for OOB (Out-out-balance) applications. A typical environment where OOB occurs is within washing machines. With MXC62020GMW, machine developers are able to detect the existence of a basket out-of-balance condition in the spin mode and may take further actions to correct it, which may include a manual alarm system or an automatic rebalance operation.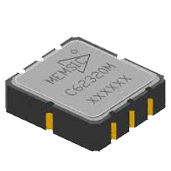 Magnetic Sensor Components
MEMSIC's magnetic sensor components utilize AMR technology to deliver low noise and high performance in ultra-small IC packages. 2 & 3 Axes, FSR up to 30G, interface: I2C , Noise: 0.8mG/rms.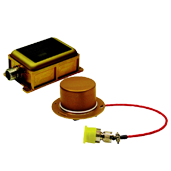 ACEINNA CRM500-510 – Remote Magnetometers Modules
The CRM-Series remote magnetometers are high performance three-axis strap down magnetic field measurement systems. They are designed as a local magnetic field reference for use with high performance Attitude & Heading Reference Systems. The CRM-Series remote magnetometers are easy to install, and they incorporate MEMS accelerometers to support automated co-alignment with the AHRS500GA, AHRS510GA or third party AHRS.
Key Features:
3-Axis Magnetic Field Sensor

High Resolution Flux Gate Sensors

Compatible with MEMSIC FAA Certified AHRS500GA and AHRS510GA

For use in DO-160E Wing or Tail Mount Environments

TSO-C6d with MEMSIC AHRS

DO-178B Level B (Level A Pending)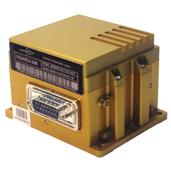 Memsic VG440 – MEMS-BASED VERTICAL GYRO
The Memsic VG440 is a high-reliability low power strapdown vertical gyroscope that provides roll, pitch and yaw measurement data in both static and dynamic environments. The VG440 can accept external GPS aiding inputs for optimized performance, and is available in standard and high range sensor configurations.
Key Features:
Roll, Pitch, Yaw and 6DOF Inertial Outputs

Accuracy < 0.2 deg

Output Data Rate > 100 Hz

High-Range Sensor Options

(400 deg/sec and 10g)

 

GPS Aiding Input

Low Power < 3W

High Reliability, MTBF > 25,000 hours

Analog Output Option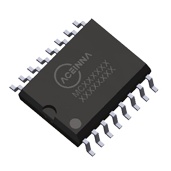 CURRENT SENSOR MCA1101-50-5
The MCA1101-50-5 is part of Aceinna's new generation of fully integrated, isolated, current sensor ICs that provide industry benchmark performance for accuracy, bandwidth, and step response time.  With total error as low as 1.5% (typ), 3dB bandwidth of 1.5MHz with low phase delay, and  <300ns transient response, the MCA1101-50-5 provides power designers with an ideal current sensing solution for the critical electronic circuits that provide control, protection, or telemetry in many of today's demanding power conversion applications.  The MCA1101-50-5 has 4.8kV of isolation (supports working voltages up to 1097Vrm) and provides a fixed gain output with a 5V supply voltage.
AMR based integrated current sensor
Superior Range & Accuracy
–  0.6% typical total error @25°C (MCA1101-20-5)
–  2.0% max error over temperature (MCA1101-20-5)
Superior Frequency Response 1.5 MHz (typical 3dB BW)
Fast output response time (300ns typical)
Low Primary Resistance (0.9 mΩ)
Single 5V Supply Operation
Low power consumption (8mA typical)
Zero-Current Reference Pin (Vref)
Overcurrent fault detection
SOIC-16 package (RoHS/REACH compliant)
-40 to +105°C Operating Temperature Range
UL/IEC/EN60950-1 Certified
– 4.8 kV Dielectric Strength Voltage
– 1097 VRMS Basic Isolation Voltage
– 400 VRMS Reinforced Isolation Voltage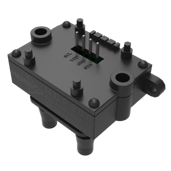 ACEINNA's MDP200 series MEMS differential pressure sensors measure ultra-low gas pressures covering the range of up to ±500Pa. ACEINNA's thermal flow sensing element is monolithically integrated with CMOS signal processing circuitry and embedded software capable of converting gas flow rates to a digital format. The signal is linearized and temperature compensated.

± 500 Pa (Custom Range Available)

Digital I2C

16 bit Resolution

±3.0% Accuracy (reading or 1.5% of full scale)

> 0.25% Linearity

Barb Fittings or Manifold Mount

Straight or Right Angle Pins