Flashnet's inteliLIGHT® is a reliable remote smart street lighting management solution. It ensures that the right amount of light is provided where and when needed, encouraging better resources management and sustainability. By upgrading your existing street lighting infrastructure, you not only save money and improve efficiency, but also transform the existing distribution level network into an intelligent infrastructure for the future.
inteliLIGHT® Smart Street Lighting Solution Main Features:
Maintenance Scheduling:


Malfunctions are reported in real time and automatic processes inform the maintenance teams about the ongoing problems with complete details, including necessary repairs, spare parts management and GPS coordinates.

 Autonomous ON / OFF, Dimming and Scheduling on lamp-level:


inteliLIGHT® guarantees a continuous, seamless and autonomous street lighting operation, using smart scheduling algorithms based on astrological calendar, light level sensors or motion detectors – for any lamps with electronic or electromagnetic ballasts and also architectural lighting. You can choose to pre-program schedules, plan a schedule of your own or manually manage every street lamp, according to your needs. Furthermore, if the communication fails for any reason, the inteliLIGHT® controllers are smart enough to continue operating the lamps autonomously, while trying to reestablish a live connection.

Grid Awareness, Optimization and Reporting:


inteliLIGHT® offers detailed map view for all the street lighting fixtures and lighting panels, with full information and electrical diagnostics. The system monitors a vast array of electrical parameters (voltage, current, active power, reactive power, apparent power, active energy, reactive energy, power factor, frequency etc.) for the entire grid and advanced analytic reports help understand the trends, reduce energy loss, improve lighting policies and increase street lighting overall satisfaction.

Smart City Platform Integrations:


Besides managing city-specific sensors and IoT devices, the inteliLIGHT® Software allows API integrations with most major smart city management platforms.

Fast and Cost Effective Installations:


InteliLIGHT® controllers upgrade existing lighting infrastructure or can be embedded into new luminaries, while the actual deployment is almost plug-and-play.

Communication Technology Agnostic:


Multiple communication technologies are available for controlling each street light pole, such as: LoRaWAN, Sigfox, NB-IoT, LTE-Cat-M1 and PLC.
System Benefits:
More Sustainable Cities and Cleaner Environments:


By reducing the energy consumption and therefore the amount of released CO2, inteliLIGHT® reduces the city's environmental impact and also helps meeting the increasingly demanding environmental norms. Furthermore, the light pollution affecting migrating birds and wildlife in general is significantly decreased.

Save Money for Your Community – Energy & Maintenance:


inteliLIGHT® can save money for your city. Energy costs are immediately reduced by up to 80% (with LED lamps) through intelligent ON/OFF switching, targeted progressive dimming and efficient energy management. Overall operational costs come down by up to 42% through detailed maintenance and preventive grid interventions based on system generated reports.

Increases Lighting Service Quality:


With the street lighting system up and running at any time, inteliLIGHT® helps to almost completely avoid the risk of accidents due to lighting system malfunction. Most of the lighting problems are detected and addressed before the citizens even get the chance to notice them.

Smart City Platform:


Due to the lamp-level control, the street light networks managed by inteliLIGHT® are continuously under power. Therefore, there is a large number of sensors and IoT devices that can be supplied from the street lighting grid, using any available communication and being coordinated through inteliLIGHT® StreetLight Control or other dedicated application. Some of them will target to improve the citizens' lives and help you maintain a safer city environment, like CCTV cameras, pollution sensors, noise detectors, traffic density sensors or Electrical Vehicle charging infrastructure. Others will simply help you manage the street lighting efficiently – and light sensors, cabinet and pole door open sensors, pole impact sensors and cable cut detection are just a few examples. Furthermore, the system supports API connectivity with major city management applications, integrating synergistically with other city systems.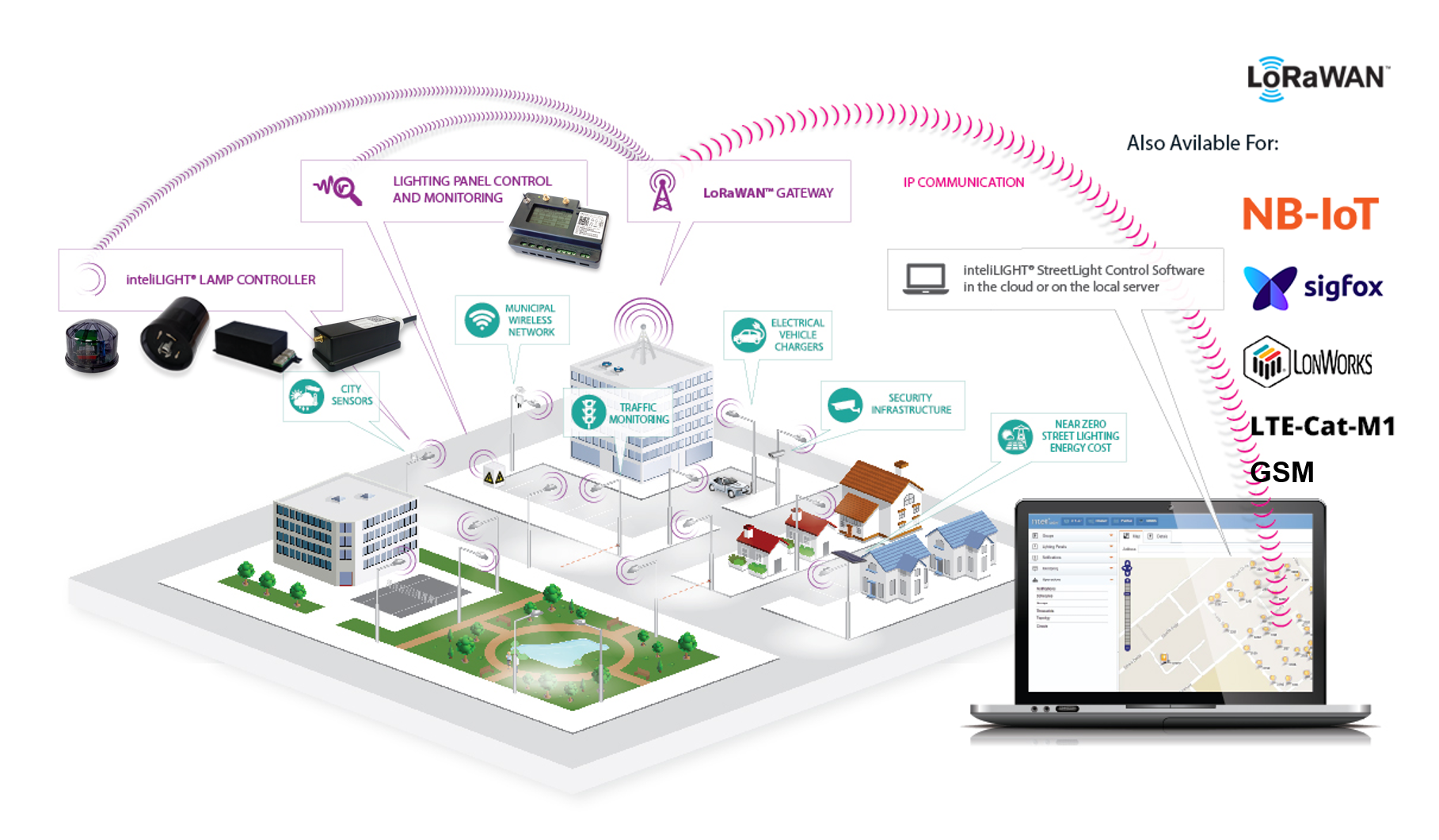 Various controllers are available to provide maximum installation flexibility for existing / retrofit fixtures or new fixtures (with internal/embedded or external controllers)
Flashnet is a member of the LoRa Alliance (http://lora-alliance.org).